Build a website that helps
get you more clients, even if you aren't very tech savvy!
We make creating your website simple. With the happytans website builder we have eliminated the headaches that typically come with creating a website.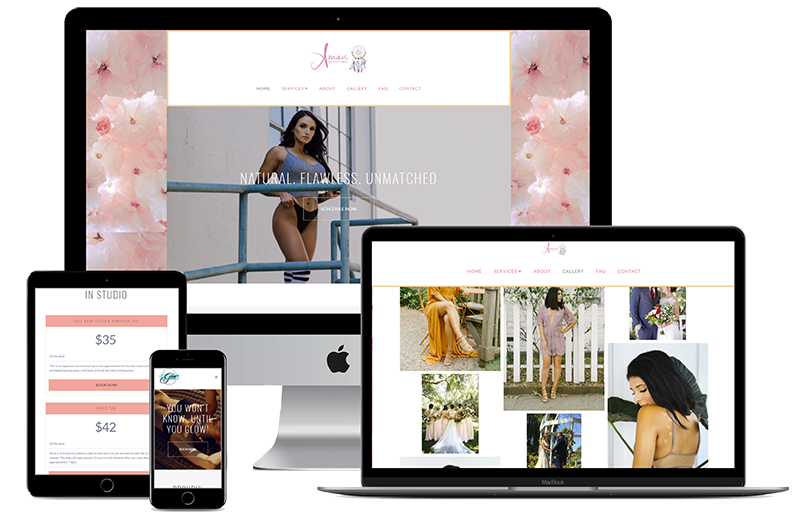 Creating your website has never been easier!
It's really as easy as 1, 2, 3...
Sign up for your website and get started in minutes, not days or even hours!
Login to your website and customize the colors and content of your website.
Launch your website to the web and start marketing your business today!
Don't take our word for it...
"I just want to thank you so much! This site has brought me so much more foot traffic adding my booking page has been HUGE!. Last week I had 65 tans!! And almost there again this week. Yay!!"
"Happy tans has made setting up my website quick and easy. I really wanted to have a website fast so I could start the other things on my "to-do" list. Happy tans website builder geared specifically to spray tanning businesses was the best option for my sunless business."
"I am so happy with the way my happytans website turned out!  This website shows the exact vision for what I was looking for!  I have been receiving compliments from clients saying it's the best website they've ever seen!"
If you already have a website we can easily migrate your content and website over to the happytans website builder.  We can migrate your website from SquareSpace, Wix, Weebly, or any other website building system.
I don't have a website yet
If this is your first time creating a website, happytans website builder is perfect for you!  We have put together a step-by-step video guide to help you put together the perfect website for your business.  We also have additional documentation, and 24x7 support!
Feel free to ask us any and all questions.  We want to make sure that we answer any and all questions that you have.
Get Found On Google
We have built SEO, aka getting found online, into the happytans website builder.  Get found online easily!
Get new clients!
We have built in lead generation forms as well as other items that help you attract potential clients and turn them into long-time, loyal clients!
Use your own domain
Once your website is ready to go, you can easily connect your website to your own domain.  An example of a domain is "www.happytans.com".
Drag & Drop Builder
Our easy to use drag and drop page builder gives you the ability to customize your website just how you want it.  The options are endless!
World Class Support
We are here for you to help support you as you put together your website and once your website is launched.  Contact us via our support for 24x7!
A Professional Website
We have taken care of most of the design aspects so that you can easily put together your own professional website.  Stand out against your competition!
Never made a website?
Don't worry, that's what we are here for.  We took all of the guesswork out of creating your website and walk you through the entire process step-by-step.
Become a #happytanner
Join over 100 other spray tan artists and become a #happytanner today.  Our community and support helps us grow and create more for you and your business!
MONTHLY
Get Found Online
Lead Capture Tools
Drag & Drop Website Builder
Works on ANY Device
SEO Optimized
View Your Online Stats
Beat Out Your Competition!
GET 2 MONTHS FREE!
YEARLY
Get Found Online
Lead Capture Tools
Drag & Drop Website Builder
Works on ANY Device
SEO Optimized
View Your Online Stats
Beat Out Your Competition!
Too busy & want us to design your site for you?
We can design your website for you for a $150 set-up fee. This is in addition to the monthly or year fee above. Typical turn around time for a new website is 3-5 business days once we receive your information.