Happytans is a participant in the Amazon Services LLC Associates Program, an affiliate advertising program designed to provide a means for sites to earn advertising fees by advertising and linking to Amazon. Some of the links contained in this article may be affiliate links, although it will not cost you more to buy through the links. Additionally, the fee's received go to help support this website and our podcast.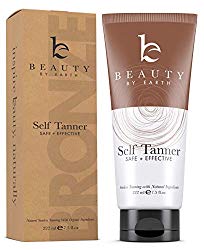 Sunburns, early aging, and increased risk of skin cancer are some of the disadvantages of suntanning. Luckily, you can still get a beautiful bronze glow without having to spend hours suntanning.
The Beauty by Earth Organic Self Tanner is your best bet for a glowing, risk-free tan. Read on for a full review of why we think this is the best self-tanner!
Look
Finding a self-tanner that doesn't give you that weird orangy look can be challenging. Luckily, Beauty by Earth gives you a beautiful and natural glow that makes you look like you've been out in the sun for a few days.
It comes in three shades: light, medium, and dark. Obviously, if your skin is too pale, you should go for darker shades. However, the darkest shade isn't really that heavy, but it all depends on the thickness of the layer.
Don't forget, you can always apply a second layer in case you want a darker tan, but that's a bit time-consuming. The tan takes about 6 hours to fully develop.
Application
The Beauty by Earth Self Tanner comes with an optional application kit that helps you spread out the cream over your face and body.
Applying this lotion isn't really the most convenient experience ever. Blending takes roughly 10 minutes, so prepare yourself to look like a snowman for some time.
Unlike blending, drying takes a relatively short time compared to other self-tanning lotions. You should expect to become fully dry within 15 minutes after blending. This means you need a total of 25 minutes to apply this cream before putting on your clothes.
For the best results, it's recommended that you exfoliate your skin before application.
Drying Time
We were impressed with how fast the product soaked into my skin. It took around 15 minutes, and I actually expected it to take longer. 
The main reason we thought it might take longer is that you would have a hard time blending it on your skin. However, we are glad to see this did not affect the time it takes to dry.
Effectiveness
We loved the color I had on my skin after I showered. It was not as dark as we expected it to be. Instead, it had a lovely light glowing tan, which was quite pleasing to look at and felt natural to the eyes.
Another thing that we find impressive about this tanner is that it wasn't at all orange or streaky. This is great because usually, these two things are exactly why anyone would stop using a tanner. We can guarantee that most of you will be pleased with the results as well.
The product lasted about three days. That's a very short duration, so you will have to reapply it three times a week. On the other hand, it faded really nicely without leaving any streaks or patches whatsoever.
One last thing we should mention is that the product is ideal for men, and they will be able to get this subtle tan they want without looking like they are putting too much effort into it.
Smell
Many self-tanners can have a weird funky smell, but this isn't the case with the Beauty by Earth self-tanner. It produces a very light yet sweet scent. It smells like coconuts and we love it! 
The smell lasts for a day or so. It's also worth mentioning that you won't notice any DHA smell with this lotion.
The Price
Beauty by Earth Self Tanner costs around $22 per bottle. This makes it one of the cheapest and most affordable self-tanners available on the market.
What We Like
Gives a natural glowing look

Made up of natural ingredients

Beautiful, long-lasting smell

Comes with an application kit

Vegan, gluten-free & cruelty-free

Lasts for 3-4 days

No DHA smell
What We Don't Like
Takes a while to blend into your skin

A bit overpriced
Ingredients
Organic Aloe Barbadensis (Aloe Vera) Leaf Juice, Organic Butyrospermum Parkii (Shea) Butter, Cetyl Alcohol, Stearyl Alcohol, Organic Ricinus Communis (Coconut) Seed Oil, Dihydroxyacetone, Glycerin (Vegetable), Organic Camellia Oleifera (Japanese Green Tea) Leaf Extract, Organic Punica Granatum (Pomegranate) Extract.
Frequently Asked Questions:
Does This Self Tanner Cause Streaks?
Any self-tanner may cause streaks if applied incorrectly. To avoid this, make sure that you apply the cream evenly over your whole body.
Can Men Use This Self Tanner? 
Absolutely. The Beauty by Earth self-tanner would be an excellent option for men who want a light tan. Just make sure that you shave off your body hair first if it's too thick.
Final Verdict
We love the natural look Beauty by Earth produces. The smell is light, beautiful, and long-lasting. The fact that it's made of natural ingredients is good news for people with sensitive skin.
Furthermore, it comes with a 30 day, 100% customer satisfaction guarantee. In case you didn't like the results, you can choose to get a full refund.
The only downside with this self-tanner is that it takes forever to blend into your skin, but we still love it anyway.