Happytans is a participant in the Amazon Services LLC Associates Program, an affiliate advertising program designed to provide a means for sites to earn advertising fees by advertising and linking to Amazon. Some of the links contained in this article may be affiliate links, although it will not cost you more to buy through the links. Additionally, the fee's received go to help support this website and our podcast.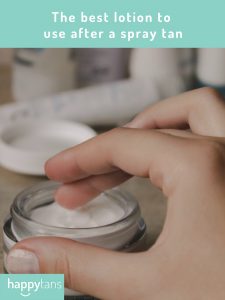 A lot of people that get a spray tan oftentimes forget that what they do before & after a spray tan is as, if not more, important than what happens at the actual spray tan session.  Making sure you are using a good lotion after your spray tan is essential to a long-lasting, beautiful glow.  Especially if you are going on vacation or getting in the water with your tan.  How long your spray tan will last depends on a number of factors.
In this article, I am going to tell you what you should look for in a good lotion and what to avoid while you have your tan.  I will include what I think makes the best lotion to use after a spray tan.
This article is focused on regular lotions and not tan extender lotions that contain DHA.  To read that article, go here.
Hint: ingredients matter!
Too busy to read?  Go ahead and see our top 5!
Why you need a lotion or moisturizer after your spray tan
Let's start with the essential question - why do you need to use lotion after your spray tan?
As you know, moisturized and fresh skin will not only absorb the spray tan solution better, but maintaining your tan also requires moisturized skin. In order to do that, we need to make sure that we are using a lotion that will not "strip" off the spray tan. Certain ingredients can be harmful to your tan, which is why we talk about which lotions and soaps to use after your spray tan.
In particular, anything that will cause your skin to begin to exfoliate will make the spray tan come off because the tan is only absorbed into the first layer of your skin. In addition, other ingredients, such as mineral oil, will strip the tan off your skin.
Therefore, it is important to make sure that you use a good moisturizing lotion while you have your tan. Immediately after your shower, you should apply lotion to your skin in order to help it absorb some of the water/moisture from the shower. That is why most skin care professionals recommend applying lotion immediately after your shower.
Ingredients to avoid
There are a number of things to avoid while you have a tan. These ingredients can cause the tan to come off immediately, or they can at least speed up the exfoliation process causing the tan to come off quicker than it would otherwise.
Here are some ingredients and types of products to avoid while you have a spray tan:
Mineral oil
Fragrances
Most essential oil
Anti-aging products
Toners
Hair removal products
Retin-a
Make-up removal products
This is not by any means an all inclusive list, but these are some of the types of products and ingredients we recommend for people to avoid.
Now that we've got that out of the way, let's talk about the types of products and ingredients that we want to use after a spray tan. Remember, keeping your skin moisturized is key, but what you use is just as important.
We want to look for the following products or ingredients:
Shea butter
Fragrance-free
Oil-free
Aloe-vera
Coconut oil
Best lotions to use after a spray tan
As one of the most popular daily moisturizing lotions on Amazon, Hempz created a great lotion, that includes shea, along with vitamins that help keep the skin moisturized and hydrated, for a longer-lasting, more natural looking spray tan!
Aveeno has a few great aftercare products that we recommend people to use.  The Aveeno Actives Natural body wash was included in our article about the best soaps to use after a spray tan, and they don't let us down with this great daily moisturizing lotion.
I spoke to a few spray tan professionals that LOVE using this lotion, even though the price point is low and most people may not consider it.  The lotion contains cocoa which is naturally good for the skin.
Shea butter is one of our favorite ingredients to use after a spray tan because it naturally moisturizes the skin and keeps the tan looking flawless!
Aloe vera is always good for keeping the skin moisturized, and in this case, we can include with our daily moisturizing lotion!
I hope this article was helpful for you.  If you have any additional questions, feel free to reach out to me directly - [email protected].
Grant Kantsios
Sunless tanning business & marketing coach
Hey everyone!  My name is Grant and I've been in the sunless tanning industry for over 9 years.  I started in the industry working for Sjolie Sunless, one of the largest companies in the sunless tanning industry.  Since then, I've had a passion for helping sunless tanning business owners through my work at happytans, with the happytans podcast and website builder. In addition, I created Sunless Evolution with world-renowned spray tan artist Jimmy Coco, who sprays A-list celebrities like the Kardashians and Ashley Graham.
Disclosure: Some of these are affiliate links, and at no additional cost to you, I'll earn a commission if you decide to make a purchase. I do have experience with each of the products or services listed below so I feel fully comfortable recommending them. Please do not spend any money on the products unless you feel you need them to achieve your goals. It turns out a lot of the things I use are free so you should be able to do the same.