Happytans is a participant in the Amazon Services LLC Associates Program, an affiliate advertising program designed to provide a means for sites to earn advertising fees by advertising and linking to Amazon. Some of the links contained in this article may be affiliate links, although it will not cost you more to buy through the links. Additionally, the fee's received go to help support this website and our podcast.
If you are looking to start a spray tanning business or you already have one and you want to upgrade your equipment, this guide is for you. We will reveal the best spray tan machines on the market for beauty professionals today.
What you need to know before buying a spray tanning machine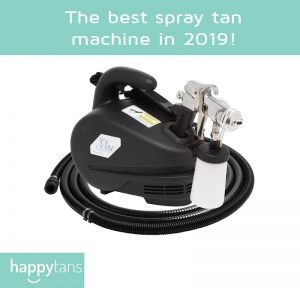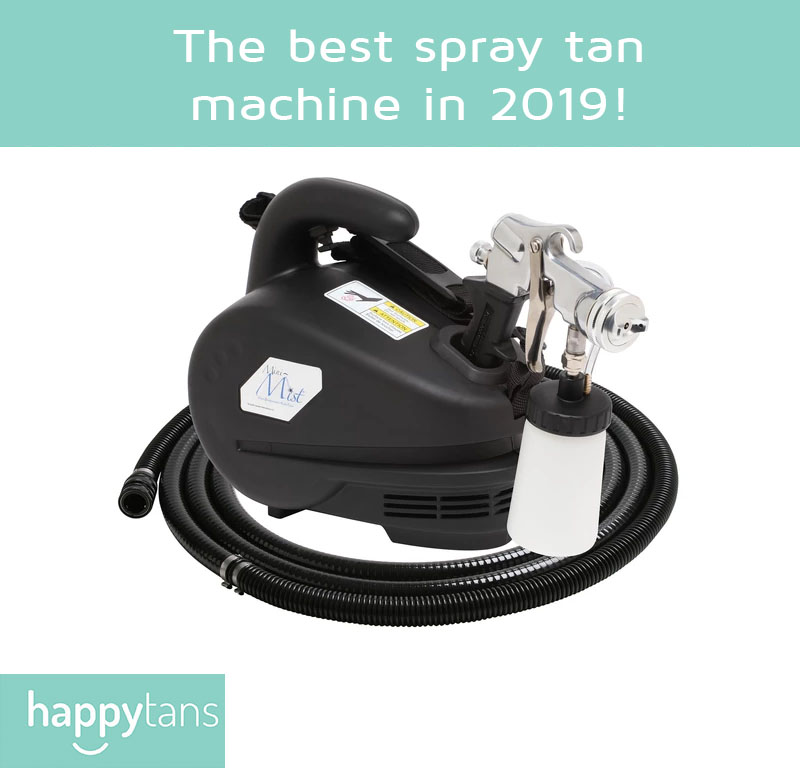 Before we reveal more about some of the best spray tanning machines on the market, it is important to know what you should be looking for in a spray tanning machine, as well as understanding the different options that are available to you.
LVLP or HVLP? - One of the first decisions you need to make is whether to go for a LVLP or HVLP machine. The latter stands for High Volume Low Pressure whereas LVLP refers to Low Volume Low Pressure. Your decision will largely depend on the budget that you have available for your fake tanning machine. LVLP is generally a lot cheaper when compared with HVLP spray tan machines. Aside from the cost, what makes these machines differ from one another? Well, HVLP machines are less likely to overheat and they waste less tanning solution. On the flip side, LVLP machines operate at a comparatively lower pressure. Because of this, a lot of people find that LVLP machines are quite challenging to use. If you are starting out, you will find that an HVLP machine will give you an easier introduction into the world of tanning. They are also a lot quieter when in operation too.
Ergonomics - You can also choose ergonomic spray tan machines in mind. These machines have been designed with ease of use in mind. These machines are a lot easier to use and they have been designed based on proven science, which means you will experience less fatigue. These machines have been cleverly designed and they are as lightweight as possible.
Overspray feature - Overspray can be a waste of both tanning solution and time for any beauty professional. Not only is it going to make the end result messy but you are going to need to continually clean it up as well. In order to reduce this issue, it is advisable to look for a tanning machine that comes with a feature for lowering the amount of overspray. This is going to make it easier for you to deliver quality.
Versatility - Last but not least, you need to understand that not every client you tan is going to have the same requirements. Therefore, it is a good idea to buy a machine for spray tanning that has some customizable features. One good option is to look for a tanning machine that has a heat option. The sensation of a cold tanning solution against the skin can be very hard for some clients to deal with, especially during the cold months. In such cases, it will be handy to find a spray tanning machine that comes with a heat option. When activated, the machine will produce warm air instead of producing cold air, making it a much more comfortable experience for the client. You can also get variable speed settings with some models. You may need to adjust the speed depending on the complexity of the tanning project. This feature gives you the ability to be in control of the speed of airflow the unit produces, enabling you to achieve the perfect air/solution ratio. You may also want to look for an adjustable spray nozzle. This is beneficial because some tanning projects are going to demand a thicker layer when compared with others. With an adjustable nozzle, the flow of tanning solution can be regulated from the gun. This will make it easier for you to adapt your service to suit client needs.
The best spray tan machines on the market today
Now that you have a good understanding regarding what you should be looking for when choosing a spray tanning machine, let's take a look at some of the best machines that are on the market today.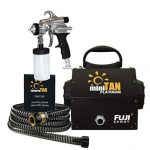 This mini tan machine is one of the most powerful that you will find on the market today. It ticks all the boxes when it comes to a lightweight and compact design. However, don't let this fool you, as it is still powerful, delivering a stunning and professional finish. It is also very durable and long-lasting, ensuring great value for money. This is thanks to the stainless steel fluid components and the metal body of the machine. There are a number of different adjustable features that are going to enable you to tweak the service you provide to suit the client. This includes an adjustable pattern knob for changing the flow.
The reasons why we recommend this spray tanning machine:
It comes with noise reduction covers
It is portable
It is durable thanks to the stainless steel fluid components
It is fitted with a metal body
It comes with a two-stage motor
It boasts adjustable fluid control
It also features an adjustable spray pattern
It is lightweight and compact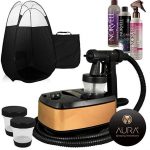 This spray tan machine is designed to meet your needs. It has a design that is lightweight and compact while the adjustable features ensure that you can meet the needs of your clients. There are a number of different features that you will love about this spray tan machine. This includes the Satin Spray Nozzle Technology.
This is designed to provide you with the greatest atomization of the solution, resulting in the best coverage. The turbine motor is highly powerful. It is also reliable, making it a good choice for busy professionals. Despite this, it is still quiet while in operation. The customizable aspects are well-liked. This includes a solution dial that will provide you between 0 and 2 fl oz of solution control. You will have no trouble carrying around this machine either. It is easy to transport and to store as well. It is one of the few tanning machines that come with effective cable management.
The reasons why we recommend this spray tanning machine:
It is equipped with a great filtration system
It comes with satin spray nozzle technology
It has a flexible and long hose
It comes with a retractable carry handle
It features a cable management system
It also has a very portable and lightweight design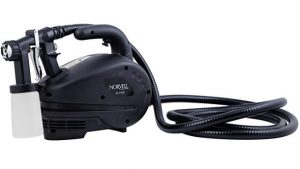 One thing that you will soon learn is that there are a number of different brands in the world of spray tanning that shine above the rest, and Norvell certainly fits into this category. The brand has an outstanding reputation in the industry, cementing itself as one of the leading tanning equipment manufacturers in the world. All you need to do is quick search online and you will see a lot of positive comments about Norvell, especially this machine. You can be sure of a premium quality finish and performance with this machine. There are a number of other great features with this portable and quality tanning machine. Every purchase includes a tent and a floor fan too.
The reasons why we recommend this spray tanning machine:
Reduced over-spraying
It enables your spray patterns to be customized
It comes with an adjustable nozzle
It is comparatively easy to use
It features a powerful HVLP system
It is a portable machine
This is a machine that not only has an elegant appearance but it delivers a powerful performance, showing that looks can very much be deceiving. The stunning aesthetics draw a lot of people to this machine, featuring bold contours and silver trim accents. Of course, the look of a machine is not going to have an impact on the quality of the tan but it certainly helps when it comes to branding your spray tanning business and giving off a good impression.
Plus, the ergonomic design means that it is easy to use when compared with some of the other machines on the market today. The ergonomic handle is a real highlight in this regard. It means the handle is going to be much easier to use, which, in turn, means that the fatigue associated with spray tanning is lowered as well.
There are a number of other features associated with this spray tanning machine that we have fallen in love with. This includes the sound dampening enclosure on the product's outer shell, which reduces the amount of noise the machine produces. Spray tanning overspray is also reduced considerably thanks to the intake of air being placed at the rear end of the machine. The product is also easy to use thanks to the single-button control turbine, which is powerful and delivers a reliable and consistent finish. Overall, this is definitely one of the best spray tanning machines available for purchase today.
The reasons why we recommend this spray tanning machine:
A carrying case is included
It has a quick-connect fitting
It is fitted with an adjustable air-cap
It has a metal alloy needle
Washable air filters are a highlight of this machine
It is one of the quieter models on the market today
Overspray is reduced
Portable and lightweight
It comes with an ergonomic design, making it easier to use than other machines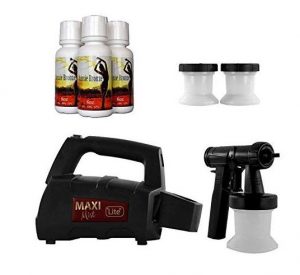 Last but certainly not least, we have the exceptional machine from MaxiMist. As discussed earlier in the guide, there are a number of different reasons why people prefer to opt for HVLP machines instead of LVLP ones. This tanning system is certainly one of the bes HVLP machines you are going to find on the market. It is great if you are looking for a lightweight and mobile tanning machine. It has a lot of different features. It is designed to provide 47 cfm of air flow and it is powered through the use of a single-stage 300 watts turbine.
It is also one of the quieter spray tanning machines on the market today. It is rated 75 DB in this regard. A lot of people have also commented on how easy this spray tanning machine is to use. You should also find it a lot easier to get the results you are aiming for because there are a number of different customizable features. You will find these adjustable controls next to the trigger. They enable you to regulate a number of different things. This includes the spray pattern. The German engineered spray nozzle can be adjusted to suit your needs. This ensures that you are always going to get a stunning and professional finish, no matter the client.
The reasons why we recommend this spray tanning machine:
It comes with a spray tanning solution package
It is certified by EU, CE, and ECAL
It comes equipped with a 6.5 foot hose
It enables flow adjustments
It comes with a non-stick needle
Enables horizontal and vertical pattern adjustments to be made
It is backed by a one-year warranty
Comes with three five-ounce cups
It features an effective HVLP system
It is ideal for professionals and beginners too
As you can see, there are a number of different factors that you need to consider when you are looking for the best spray tanning machine. If you opt for one of the spray tanning machines that have been mentioned in this guide, we are sure that you will not be disappointed.
Additional questions we hear
Even though these machines are built for professional use, they can also be used at home for tanning yourself.
The prices for spray tan equipment has a huge range depending on the type of system you want.  There are small machines that people use for personal use that start around $150 - $200.
Then, there are large machine for higher volume salons that can cost $1,000+.  We recommend determing which type of equipment you need and then researching to make sure it will work for you.
I hope this article was helpful for you.  If you have any additional questions, feel free to reach out to me directly - grant@happytans.com.
Grant Kantsios
Sunless tanning business & marketing coach
Hey everyone!  My name is Grant and I've been in the sunless tanning industry for over 9 years.  I started in the industry working for Sjolie Sunless, one of the largest companies in the sunless tanning industry.  Since then, I've had a passion for helping sunless tanning business owners through my work at happytans, with the happytans podcast and website builder. In addition, I created Sunless Evolution with world-renowned spray tan artist Jimmy Coco, who sprays A-list celebrities like the Kardashians and Ashley Graham.
Disclosure: Some of these are affiliate links, and at no additional cost to you, I'll earn a commission if you decide to make a purchase. I do have experience with each of the products or services listed below so I feel fully comfortable recommending them. Please do not spend any money on the products unless you feel you need them to achieve your goals. It turns out a lot of the things I use are free so you should be able to do the same.