Happytans is a participant in the Amazon Services LLC Associates Program, an affiliate advertising program designed to provide a means for sites to earn advertising fees by advertising and linking to Amazon. Some of the links contained in this article may be affiliate links, although it will not cost you more to buy through the links. Additionally, the fee's received go to help support this website and our podcast.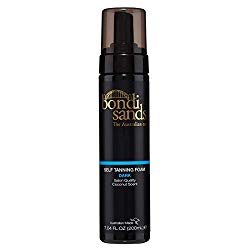 Bondi Sands is an Australian brand and is known for its excellent products. Nowadays, the company ships to the USA. However, the shipping is a bit expensive and costs about $14 alone regardless of the price of the product. 
In this article, we will review one of their most popular products, which is the Bondi Sands Self-Tanning Foam.  As we know, finding the best self-tanner can be challenging, so we decided to dig a bit deeper into this highly-rated product.
So, without further ado, let's jump into things. 
Application 
The foam isn't what I would call easy to apply, because it can get messy. However, you can simply use a mitt to have better control over the whole thing. When I first tried this, I was standing on a towel to avoid staining the floor. 
The guide was darker than it should be, and it looked a bit greenish. But the overall experience isn't disappointing at all. On the contrary, it's decent in comparison to a lot of other self-tanners available on the market. 
Drying Time
I was impressed with how fast my skin absorbs the foam. In less than 20 minutes, it was completely dry without feeling sticky or wet. 
Looks and Feels 
The product has a dark brown color, and the guide (bronzer) is quite dark as well. It is a light foam somewhere in between lotions and liquid products.
Effectiveness 
The tanner did better than I expected when it comes to the skin tone. Usually, most self-tanners that claim to have a "dark" shade give you a medium shade. 
However, this one turned pretty dark; fortunately, it still looked natural, and it lost that greenish tint it had right after the initial shower. 
On the downside, it only lasted for two days, which means that if you want to have a tan for a week or so, you will need to apply the product from 3 to four times. I find this time consuming, so; I recommend you only use it if you have an event or a meeting, and you are looking for something fast to use for only a couple of days. 
One thing that bothered me when it comes to the Bondi Sands Self-Tanning Foam is that although it didn't have any streaks, I spotted a splotch while the effect was fading.
Smell 
Bondi Sands self-tanner is one of the best smelling tanners out there. I instantly fell in love with its coconut smell that feels sweet and tropical. You will feel like you are on vacation while using it. 
As usual, I applied the product before I go to bed, and showered first thing in the morning. After the shower, I couldn't smell the DHA or the coconut smell. 
Price
In the US, this costs about 24 dollars. This means that you will be paying $3.42 per ounce, so, for most people, and in comparison to other products, it is pretty average.
Pros:
The consistency that's not too thick nor liquid.

The fresh coconut smell, and it had no DHA smell.

The natural color and how you can get a dark shade out of this.  

Its price is average, and a lot of people will find it affordable.

Men can use this, and it wouldn't look glittery or unnatural.

The drying time was so impressive as well.
Cons:
The application was pretty messy. However, it gets better with every use.

I was not too fond of the fact it only lasted for two to three days and found this disappointing.
Main Ingredients:
Water

Dihydroxyacetone

Propylene Glycol

Trideceth-9

Aloe Barbadensis Leaf Juice

Polysorbate 20

PEG-5 Ethylhexanoate

Glycerin

Ethoxydiglycol

Butylene Glycol
Frequently Asked Questions:
How Many Uses Can You Get Out of One Bottle?
It depends on how many layers you apply to your skin. If you apply two layers every time, a bottle can last for about nine weeks. 
How Long Does It Last If I Go Swimming?
Unfortunately, it will barely last you two days.  
Users' Reviews on Amazon 
The product has a 4.4 rating on Amazon. 
What most people agree on is that it doesn't have this distinctive smell other tanners have. As mentioned above, it has a tropical scent that you will instantly love. 
Another thing that people admire is that the color it leaves on the skin is rather natural. 
Almost everyone who was using a daily lotion claims the tan lasts up to four days after the application, so I recommend you apply lotion to get the best out of it as well. 
However, some people said that the foam left a stain on their clothes and bedsheets. To be on the safe side,  wear long sleeves and use old sheets after applying the foam. Very few people said that they found it too sticky. 
Final Verdict
I had a good experience with Bondi Sand Self-Tanning Foam. I only wish I lasted for a longer duration. But, other than this, everything about this product is perfect. In my humble opinion, it deserves a chance. So, if you are making a list of which tanners you should try, this should be on the top of your list.