Happytans is a participant in the Amazon Services LLC Associates Program, an affiliate advertising program designed to provide a means for sites to earn advertising fees by advertising and linking to Amazon. Some of the links contained in this article may be affiliate links, although it will not cost you more to buy through the links. Additionally, the fee's received go to help support this website and our podcast.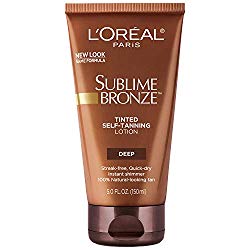 L'Oreal is one of the brands that is well known all over the world. It won the hearts of many consumers who use it in their daily and weekly routines. 
The brand is well received all over the world; mainly, the products always do what the company claims they will do. Besides, of course, the excellent quality and the pocket-friendly price.
In this article, we will give you a detailed review of one of the most used products from L'Oreal, the self-tanner.  When comparing it with some of the other best self-tanning products, it holds up pretty well all things considered.
L'Oreal Sublime Bronze Tinted Self-Tanning Lotion Review
Application
When it comes to applying this tanner, unfortunately, I didn't have the best experience.
For starters, it is too thick, and it stayed on my skin longer than I expected it to. I even tried using an application mitt, but things weren't under control because of the shimmer it has. 
This shimmer ended up all over the place and got everywhere I went after applying the tanner. However, if you are someone who is used to products that contain shimmer, this won't be your biggest issue. 
I can honestly say that the entire application process was a little disappointing. Besides being thick and shimmery, I found it difficult to see, and I had to use a lot of the product on my first application.
Drying
As usual, I tried applying the product on my skin before bedtime. The thing is, I could feel the thick gel on my skin for a long time. I was afraid I was going to get stains all over my sheets, and I stayed up waiting for it to dry.
It took about an hour before it started to feel less tacky to touch. For me, this is such a long drying time. So, I recommend you apply this couple of hours before going to bed to allow your skin to soak most of it.
Look and Feel
The product comes out of the bottle with a caramel brown color that has a shimmer in it. It feels more like a gel, and it's definitely one of the thickest tanners available on the market. 
After applying it, I could see glitter all over my skin, and it took some time for my skin to absorb.
Smell
L'Oreal Products are well known for their pleasant aroma. When it comes to this tanner, I felt like it had a hint of citrus in it. You can still smell the DHA included in the product, but I am used to it because it is found in most tanners, so I didn't find it irritating or anything. 
Yet, if this is your first time to try using a tanner, you might not tolerate it too well. As expected, the smell fades away after taking your shower in the morning, and it doesn't really linger for long.
Effectiveness
It said on the bottle that this self-tanner takes about 2-4 hours to develop. Yet, it took 4 hours to start seeing any results. Not sure if this is because I have fair skin, or maybe I should have applied a little more. 
Anyways, the most disappointing part was how streaky it was after I showered the next morning. I was waiting for this smoothness that other L'Oreal Sublime tanners have, and it was frustrating not to get it. 
The color left on my skin was a bit unnatural, although I liked the shade. Lucky for me, the tanner only stayed for four days, and then it started fading. 
Of course, at this point, I was expecting to see even more streaks, which is exactly what happened.
Price
The bottle is about 5 oz. and it only costs $11. This means that you are paying $2.40 per ounce, which is quite cheap.
What I Liked About the Product
Sadly, there isn't much to put on this list. I think L'Oreal could have done a much better job, especially that they have better products within the Sublime Bronze range.
The only thing I liked about the consistency is that it is not drying because it is a lotion, so it has a moisturizer in it. The price is good, as well.
I would say that it doesn't smell as bad as other tanners. However, it doesn't smell that good either, so; I don't believe this counts.
What I Didn't Like About the Product
The application was too messy for me. I generally tend not to like shimmer in any products, but other people may like it. It is sore to say that I don't think that this product is suitable for men to use. 
This is mainly because of the shimmer, which makes me believe that there are far more products that are ideal for men within and other than the Sublime Bronze range.
Users' Reviews on Amazon
If you check the reviews on Amazon, you will notice that most of the people who said that it worked for them have pale skin. To be honest, with this price, if you have pale skin, I think it is worth trying it because this might work out for you.
It has a rating of 4.1 out of 5, which means that most people tend to like it for the most part. Because of the lotion consistency, no one had any issues with spreading the product on their skin. And I was surprised to find out that I am one of the few people who were left with streaks all over.
Final Verdict
L'Oreal is known for the excellent quality of its products. And because we all have different skin types and tones, I think you should try this tanner for more than one reason. 
First, it has a good rating on Amazon. Secondly, it only lasts for four days, so if you did not like it, I can assure you it won't stick around. And lastly, it's quite affordable, so you might as well see if it works for you. I hope it does.