How to find the


best spray tan solution


in 2022
Trying to find the best solution can be a challenge.  In this article, I will outline my theory on this topic, why there is no "best" spray tan solution for everyone, and what you should look for to find the best sunless products for you.
Happytans is a participant in the Amazon Services LLC Associates Program, an affiliate advertising program designed to provide a means for sites to earn advertising fees by advertising and linking to Amazon. Some of the links contained in this article may be affiliate links, although it will not cost you more to buy through the links. Additionally, the fee's received go to help support this website and our podcast.
Finding the best spray tan solution
I see a lot of questions in the spray tan forums about finding the best spray tan solution.  It is the one topic that every single sunless tanning business owner and spray tanner wants to talk about. No matter what solution they are using, spray tan artists are always looking for the next best thing.
Let's go ahead and settle this:
There is no BEST spray tan solution for everybody.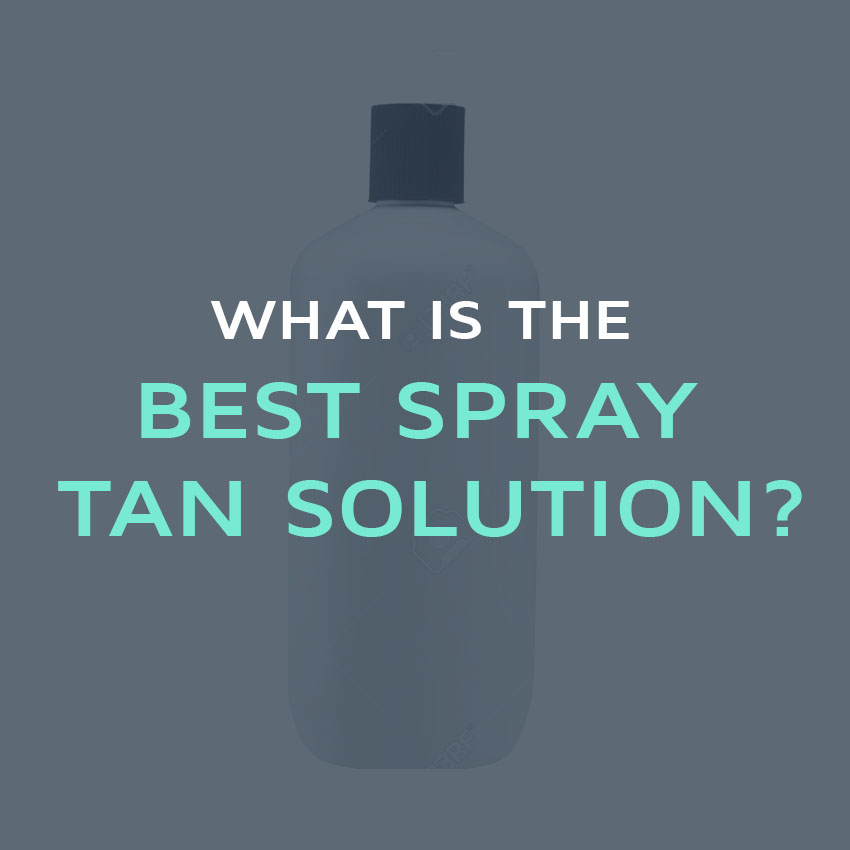 First things first.
There are too many factors to consider when you are looking for a product that will fit the needs of your clientele (or yourself).
Where are you located?  Weather conditions matter.

Who is your clientele?  Young and on-the-go people typically prefer a rapid solution.

How do you spray?  Do you spray one coat or two coats?  Do you spray 4" away or 8" away.

Do you spray vertically or horizontally?

How much product do you use per application?  I've heard everywhere from 1oz - 4oz+.

What type of skin do your clients typically have?  Oily skin? Dry skin? Do they have psoriasis or tinea versicolor?

What skin tone do they have?  Fair skin, medium skin, etc.
As you can see, there are a number of things to think about when you are determining the best solution for you.  I will do my best to help explain what you should look for in this article.
Our top 5 best spray tan solutions revealed
Sunless tanning ingredients
First and foremost, we must think about the products that have the BEST and most natural ingredients possible. This day in age, people are always looking for a healthy and more natural way of doing things.
A lot of manufacturers will cut it short and save money by purchasing lesser quality ingredients because they cost less and add more money in their pockets. But this doesn't help you. You want the best quality ingredients possible.
While we aren't going to break down every single product and their ingredients, we will do our best to highlight the products that, from our research, have the most natural ingredients available.
Not all ingredients are created equal
One thing that is a challenge to determine is the actual quality of the ingredients that are used in products. Just because two products have dihydroxyacetone, aka DHA, in them, which they all will, doesn't mean that they use the same quality of ingredients.
Therefore, it may require you to do some additional research and reach out to the manufacturer to learn more about the quality of ingredients in their products.
Just because products list "natural" and "organic" doesn't mean they are qualifying their entire product that way. In fact, NO products on the market are 100% natural or organic. It just isn't currently possible.
Ingredients and your location
This may seem a bit random to people who are just starting out and considering creating a spray tan business, but lots of times products don't work well for people based on where they are located.
Let me give you an example.
Some spray tan solutions have aloe in them which helps to hydrate the skin. This is one of the best and most beneficial ingredients that can be used. However, it isn't ideal for everyone. Remember, we did mention earlier that there is no "one size fits all" for finding the best solution.
If you are in a very humid environment, think Florida, Louisiana, Texas, etc, then aloe may not be an ideal ingredient for you. The reason being is because aloe leaves the skin feeling moisturized and "wet" because it is hydrating. Being that it is humid, you want something that dries quicker and that won't leave you feeling "wet" or "sticky" as most people explain it.
So while it would be great for all products to contain aloe for skin moisturizing benefits, it doesn't work for everyone in every location.
Common sunless tanning solution ingredients
While there are a variety of spray tan solutions to choose from, most of them have very common ingredients. That is because they all use the same ingredients to "activate" the tan, and then accompany those ingredients with a few other things.
I wanted to highlight the main ingredients below:
Aqua (water) - This will always be the first ingredient on the label because water is used to make any sunless tanning solution. You will see this typically listed as distilled or deionized water. In the end, it's water.
DHA - Dihydroxyacetone, aka DHA, is the active ingredient in sunless tanning products. This is the ingredient that interacts with the top layer of skin and causes the malliard reaction, which in turn makes the skin turn brown, or tanned in this case.
Aloe Barbadensis - Aka Aloe Vera, which is used to help soothe the skin and keep it moisturized, for a longer lasting more natural looking tan.
Erythrulose - A very similar ingredient to DHA that is used in combination with DHA in some sunless tanning products. It typically takes a longer time to react with the skin, causing the tan to get darker past the 24 hour mark. When it is used alone, it fades faster than DHA, which is why people use them together. Erythrulose is known for helping achieve a darker, deeper color tan. (Source - Wikipedia)
Walnut extract - This is commonly used for color in sunless tanning products and is derived from the husk of the nut, and not the actual nut itself.
Ethoxydiglycol - This is used in a lot of cosmetics and beauty products and helps to thin out the solution, or products and decrease the viscosity of the product. Higher viscosity means the product is thicker, and lower viscosity means it is more "runny". (Source - Making Cosmetics)
Cetearyl Isononanoate - This is an emollient, or skin softener/soother, that is used in spray tan solutions. (Source - Cosmetics Info)
While I could go on forever listing ingredients, I won't do that to you. I just wanted to highlight some of the most common sunless tanning ingredients that you are almost sure to find in your products.
If you have any specific questions about ingredients, make sure to ask the manufacturer or brand that you purchase from. They all may have different explanations and/or source their ingredients from different places.
"Certifications"
Lots of products now boast about being PETA Approved & Vegan products. This is something you should definitely consider and look for when choosing a product.
With the increased availability of products and sources, it's now easier than ever to find these types of products.
In addition to the ingredients, we also have to consider the type of product that you are looking for. The most common type of products we see are: regular/overnight and rapid spray tan solutions.
The main difference being that the overnight products are typically kept on the skin for 8-12 hours, while the rapids can be washed off in 1-4 hours (in most cases). These times will vary widely as every product and manufacturer is different. We advise that you ask the company to make sure you follow their proposed guidelines.
So what's the difference in these products?
The rapid solution has a different type of DHA in the product which helps to adhere to the skin more quickly, thus allowing you to shower a lot sooner.
Now, the confusing thing for most people is the fact that the overall color does not develop any faster. In fact, when I worked at Sjolie Sunless, I use to field calls all the time of people worried saying they had no color after the initial shower. This is completely normal.
While you can shower sooner than the normal overnight solution, it still will take 24+ hours to fully develop. The benefit, of course, being that you can shower within the 1-4 hour window.
So you might ask, why would anyone want to leave the solution on for longer than 1-4 hours?
For the most part, we see a lot of mobile tanning business owners using regular solutions because their clients are already in the comfort of their own home.  Therefore, they don't need to rush or worry about rubbing the product off their skin.  Whereas salon-based businesses have clientele coming to them so they can use a rapid for their clients to wash off more quickly.
What's the difference between the regular product and the rapid product?
To be completely honest, it really comes down to your personal preference and the preference of your clients. Most of the products will be pretty consistent as far as the color and ingredients go.
Something to consider if you are running a spray tanning business is whether or not your clients will listen to you when you give them instructions on when to shower.
Since the rapid solution is typically only one "color", there is a range for shower time depending on the color you want to achieve. Here's a simple example:
1 hour = light tan
2 hours = light/medium tan
3 hours = medium tan
4 hours = dark tan
As you will find, most products will work similarly in this regard. With that being said, let's say the client that comes to you has fair skin and they will need to shower at 2 hours to achieve the best color for them.  In that case, you want to make sure you find the best spray tan solution for fair skin.
You give them instructions and tell them when to shower, and instead of waiting 2 hours, they wait 4 and then shower it off. Their color may be too dark for their skin tone and thus provide unfavorable results.
To avoid a situation like this, you could use an overnight solution because these products will only get as dark as they made to be.
For instance, if you were to use the Sjolie #9, it will only get to 9% DHA and then it will not develop anymore. That means that even if you were to leave it on for 48 hours, it would eventually hit a wall and stop developing.
Additional types of sunless tanning products
Bodybuilding spray tan solution
One type of product that we won't go into too much detail about in this article is solution made specifically for bodybuilders.
While this solution has some similarities with regular solution, it is also developed with a very high concentration of bronzers so that the bodybuilder can have the dark color necessary for being on stage.
These products are great for what they are made for - bodybuilders on stage. Otherwise, we advise that you steer clear of using these products.
Clear spray tan solution
Another thing you may see from time to time is a clear solution. These products are made the exact same as the regular solutions, but they do not have cosmetic bronzers in them, meaning as you apply them you won't be able to see where you are spraying and your client will not get the immediate gratification they usually do.
We don't recommend using a clear solution unless you are a seasoned pro because it can be challenging to apply flawlessly since there is no bronzer guide.
How long does the product last?
This is one of the main concerns and questions when people are trying to find a product that they like. For the most part, you will see most companies claim that their solutions will last 7-10 days, even though I've seen some that can last up to 14 days.
When dealing with clients, there are lots of things to consider that could affect the overall tan and how long it lasts:
All of these things can have an affect on how long the tan lasts.
Most times when we see people's tans last up to 10+ days, it's because the client was very good about taking care of their tan and making sure that they didn't do anything to cause it to come off quicker.
Since the spray tan only adheres to the top layer of dead skin, the solution starts to come off as this skin falls off. Anything we can do to avoid these items listed above (and more) will help the tan last longer.
Ingredients and the life of your tan
While most solutions will last around 7-10 days, there are some ingredients that can be included in spray tan solutions that will help the tan last longer.
For instance, aloe vera has some major benefits, one of which is the fact that it helps to actually moisturize the skin, which in turn helps the tan last longer.
An ingredient that most people try to avoid in their spray tan solution is alcohol. While alcohol can help the solution "dry" quicker, it can also dry out the skin. This is the natural reaction to alcohol and the skin.
I always recommend for people to avoid using solution with alcohol for the clients that have dry skin, especially those with excessively dry skin. A solution with aloe is much better to use for someone with dry skin.
This may be more of a personal topic, but for me I try to look for and recommend solutions that are unscented. The main reason is because "one size doesn't fit all" also applies with scents.
I wouldn't want to use a solution that had a scent that my clients disliked, so I would rather it be unscented and have the chance to add some essential oils if I wanted.
Also, sometimes the solution will contain a scent that is too strong and it can be overwhelming for both the technician and the client as the scent fills the room and it's unavoidable.
This is another common question I see all over the forums and one that I use to answer when I worked at Sjolie Sunless.
The short answer to this question, for all solutions, is yes.
The solutions may have different ingredients, and their consistency may be a little different, but for the most part they are very similar.
Most people who spray tan use what is called an HVLP gun - High Volume, Low Pressure. These spray tan guns derived from the painting industry and are very powerful pieces of spray tan equipment. So while it may be a worry for some people, I can assure you that any solution you decide on should, almost 100%, work in any gun.
The only time I've really seen issues with this is for those people that used an airbrush gun and not an HVLP gun. The airbrush guns are the little pens that people use and spray in a circular motion to apply the spray tan. Being that they are typically less powerful, a thicker solution may cause issues. However, most products are not that thick.
My favorite spray tan solutions
I've added some of my favorite products down below.  Based on availability, some of the ratings may be altered.
Our top 5 best spray tan solutions revealed
I hope this article was helpful for you.  If you have any additional questions, feel free to reach out to me directly - [email protected].
Grant Kantsios
Sunless tanning business & marketing coach
Hey everyone!  My name is Grant and I've been in the sunless tanning industry for over 9 years.  I started in the industry working for Sjolie Sunless, one of the largest companies in the sunless tanning industry.  Since then, I've had a passion for helping sunless tanning business owners through my work at happytans, with the happytans podcast and website builder. In addition, I created Sunless Evolution with world-renowned spray tan artist Jimmy Coco, who sprays A-list celebrities like the Kardashians and Ashley Graham.
Disclosure: Some of these are affiliate links, and at no additional cost to you, I'll earn a commission if you decide to make a purchase. I do have experience with each of the products or services listed below so I feel fully comfortable recommending them. Please do not spend any money on the products unless you feel you need them to achieve your goals. It turns out a lot of the things I use are free so you should be able to do the same.