Happytans is a participant in the Amazon Services LLC Associates Program, an affiliate advertising program designed to provide a means for sites to earn advertising fees by advertising and linking to Amazon. Some of the links contained in this article may be affiliate links, although it will not cost you more to buy through the links. Additionally, the fee's received go to help support this website and our podcast.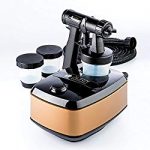 There are a lot of spray tan machines on the market and it's difficult to decide which one is best for you and your business.  One of the newer machines on the market is the Aura Allure.  It's a small, light-weight machine that is a workhorse for any volume of spray tans.  Since the machine is light, it is ideal for salon or mobile spray tan businesses.
In fact, I was interviewing James Harknett the other night for the happytans podcast, and he said that this is currently his favorite machine.  For those of you that don't know James, he is one of the best spray tan artists in the world and has won prestigious awards, including GQ's Best Wellness Experience.
Cutting Edge Spray Tan Machine
Aura has been in the business of creating HVLP sprayers since the 1940s. They are simple, easy to clean and made from the most advanced technology. Their Allure range entered the market in 2015. It comes in the Allure and the Allure Xena. They also released the Elite range afterward. This range uses click technology to allow for a more efficient and complete tanning performance.
The Allure machine allows for perfect coverage by minimizing the amount of solution waste. You can control how much solution is released, so you can control how tanned you get. The machine's turbine is a lot quieter which allows for the experience to be more social. Its design is sleek ad sophisticated, making it a great addition to your salon or your portable tanning kit.
A few extra features include an on/off unit with a grooved dial that is easier to hold and is gentler on your nails. The cups are also designed in such a way that they're spill-proof and can remain upright even if the gun is connected to the motor.
Pros
Minimizes solution waste
Discreet Gold Filter
Compact
Quiet
Avoids spills
Cons
Might look "cheap" since it's all plastic
Think Before You Buy!
Buying the first spray tan machine that you see might not be the best idea. It's important to consider a few things. First, it's important to make sure that the spray tan gun holds enough liquid. You need about two ounces to cover a person so the tanning gun should hold at least two ounces of solution.
Secondly, you need to think about whether you want an HVLP gun or an airbrush tanning gun. HVLP, or High Volume Low Pressure, guns cover larger areas quickly which results in a more blended result and wastes less spray tan solution. Airbrush guns take closer to forty minutes to complete a single session. The only useful time to choose this option is if your salon offers other airbrush services, such as tattoos and nails. The nozzle's spray pattern also needs to be between two and six inches. Any less than that, it'll take you longer and you'll waste more solution. Any more than that and you'll waste solution by "missing" the person you're tanning.
The machine also comes with various different "feeds" or ways to allocate the amount of solution. The most common one used is "siphon feed", which helps to minimize the amount of solution used. This aspect doesn't matter as much. It's more your personal preference.
Noise is another factor to consider. If you're bringing this machine into a relaxing spa, the sound of the compressor working might be very disruptive. It might also be out of place in someone's home if you bring it on home visits. 
The machine needs to handle the number of jobs that it has to complete. If tan artistry is your profession, then you need to make sure that the machine can handle the number of clients that you visit on a given day. Examine whether the machine is light, medium or heavy use. In the same vein, you need to consider the weight. Usually, this isn't a problem if you work primarily in a salon. If you're someone who does mainly home visits or you're doing a favor for a friend, having a machine light enough for you to carry it around.
The final aspect to consider is the cost. Obviously, every budget and professional need is different. You might only need a single spray tanning gun, or you might need a larger system.
Why You've Got to Have It
Maximum and Minimum Flow Dial
When you're tanning someone, you want to make sure that you use the right amount of solution and properly cover the person you're tanning. This part can also be controlled by how far away you stand by the person.
Satin Spray Nozzle
Minimizing the amount of solution that you waste means minimizing your costs. The nozzle's specific technology breaks down the solution into a particularly thin spray. This allows for better coverage and less waste through overspray. It allows for perfect coverage and it feels good on the skin.
Long Hose
If you need to move the machine far from an outlet, it helps to have a long enough hose. This machine's hose is 11.5 feet long, which means you could take it halfway across a salon, if necessary. 
Extra Cups and Lids
The cups in the machine need to properly hold the solution. These cups are sealable and spill-proof. Even if the hose is attached to the spray gun, the cups can stand upright.
And The Reviews Are In!
The overall reviews are stellar! One reviewer even said that, after expressing dissatisfaction with their machine, that the seller took special care to resolve the issue. Great customer service and a great product are a stellar combination.
To Conclude
If you're looking for a top-notch spray tan machine, look into Aura Allure's Spray Tan Machine. It's easy to maneuver and it's spill-proof. It's also made from the highest technology so that you're guaranteed quality and it minimizes waste. It might one of the more expensive models, but it's worth every penny.
Check out the Aura Allure! It's currently available on Amazon.