Happytans is a participant in the Amazon Services LLC Associates Program, an affiliate advertising program designed to provide a means for sites to earn advertising fees by advertising and linking to Amazon. Some of the links contained in this article may be affiliate links, although it will not cost you more to buy through the links. Additionally, the fee's received go to help support this website and our podcast.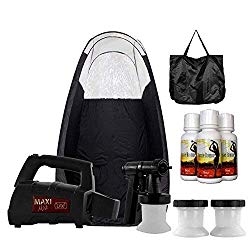 Spray tan machines have recently gained popularity after more people have become aware of the risks of sun tanning and its dangerous health effects on your skin.
If you're in the market for a new spray tan machine, you've probably heard about the MaxiMist Lite Plus.
Whether you're an absolute beginner or a professional in using spray tan machines, the MaxiMist Lite Plus is an excellent investment. Read on for a full in-depth review of this little gadget!
Performance
The MaxiMist Lite spray tan machine features a 300-watt Turbine with 47cfm airflow in addition to a German-engineered spray nozzle that provides optimum atomization with little overspray. 
The result is an impressive performance that will leave you satisfied with your flawless sunless tan.
The MaxiMist Lite Plus comes with an HVLP gun. There are two types of spray guns: High Volume Low Pressure (HVLP) and Low Volume Low Pressure (LVLP). 
HVLP guns are less prone to overheating than LVLP ones and they don't consume as much spray tan solution. On the other hand, LVLP guns are much cheaper. However, they're much trickier to use, especially for beginners.  If you are interested in starting your own spray tan business, read our in-depth guide on starting your own business.
With the MaxiMist Lite Plus, you can do up to 10 applications per day, meaning that your friends and family can join you in the tanned club. 
However, for professional tanning salons, ten applications per day won't be sufficient. Nevertheless, you can still use it if you're starting out or as a backup machine.
Ease of Use & Portability
The MaxiMist Lite is quite simple to use even for complete beginners. Many people struggle with spray tan machines in the beginning, but this isn't the case with the MaxiMist Lite.
Moreover, it's got essential safety features like a non-stick needle, which prohibits solution accumulation and corrosion. The adjustable trigger makes it easy for you to control the spray patterns.
There are three 5 oz cups and two lids attached to the Satin spray head, so you won't have to stop spraying to refill the cups with the solution. 
Additionally, you also get a 6.5-foot hose that allows you to freely move the gun with the machine placed on any hard surface.
You also get a carry bag with enough space to store extra stuff, in addition to onboard gun storage.
The machine comes with a large nylon clear view pop up tent so you won't have to spend extra cash on a tent.
The tent is made of nylon, and it's double stitched with threaded seams to maximize durability. The floor is leak-proof and stain-resistant.
Physical Design
The physical design of the MaxiMist Lite complements its ease of use. At just 14 x 8 x 8 inches, this spray tan machine is pretty compact. It's also quite lightweight at only five pounds. 
Furthermore, the cups are conically shaped. This design ensures that the solution is centered at the bottom, allowing for a flexible range of movement while spraying.
What We Like:
Gives your skin a beautiful bronzed look

Affordable price

Easy to use and apply

Compact and lightweight

Up to 10 applications per day 

Effective for up to a week

Completely harmless for external use It (CE, EU, ECAL Certified)
What We Don't Like:
The included solution isn't the best around, and it expires 90 days after the date of manufacture

No fancy features available in more expensive models
MaxiMist Lite Plus Key Specs & Features:
Powerful 300 watts single-stage turbine 47cfm airflow, 110 v (USA only)

6.5ft/2m flexi-Hose (remove the gun from the hose to Blow Dry)

Lite Plus Spray Gun w/5oz/150ml Cup

On-Board Spray Gun Storage

Two (2) Extra 5oz/150ml Cups w/Lids

Spare Spray Gun Cup Gasket and Pickup Tube

Spare Spray Gun Nozzle Gasket

Spare Turbine Filter

Detailed Instruction Manual

Rated for light salon or mobile use (10 uses a day, or 60 uses a week)

1-year motor warranty

Weight: 2kg/5 lbs

Free complimentary package of Fresh Solution Samples, from Tampa Bay Tan, Natural and Organic Ingredients, vegan, cruelty free, paraben free blends

Brown Tinted Aussie Bronze, 8% (medium) ,10% (medium dark) and 12% (dark), plus gun cleaner (8 oz of each)
Final Thoughts
A lot of people who tried out the MaxiMist Lite Plus were quite satisfied with the results, with many praising the machine's ease of use and the roominess of the tent. Even those who are starting a small business loved it. 
While the MaxiMist Lite Plus isn't the most feature-packed spray tan machine out there, it's a good starting point for beginners. Its affordable price, coupled with its user-friendliness and compact design make it one of the best spray tan machines out there.  
All you have to do is watch a few tutorial videos and set up the machine to get that golden tan you desire!