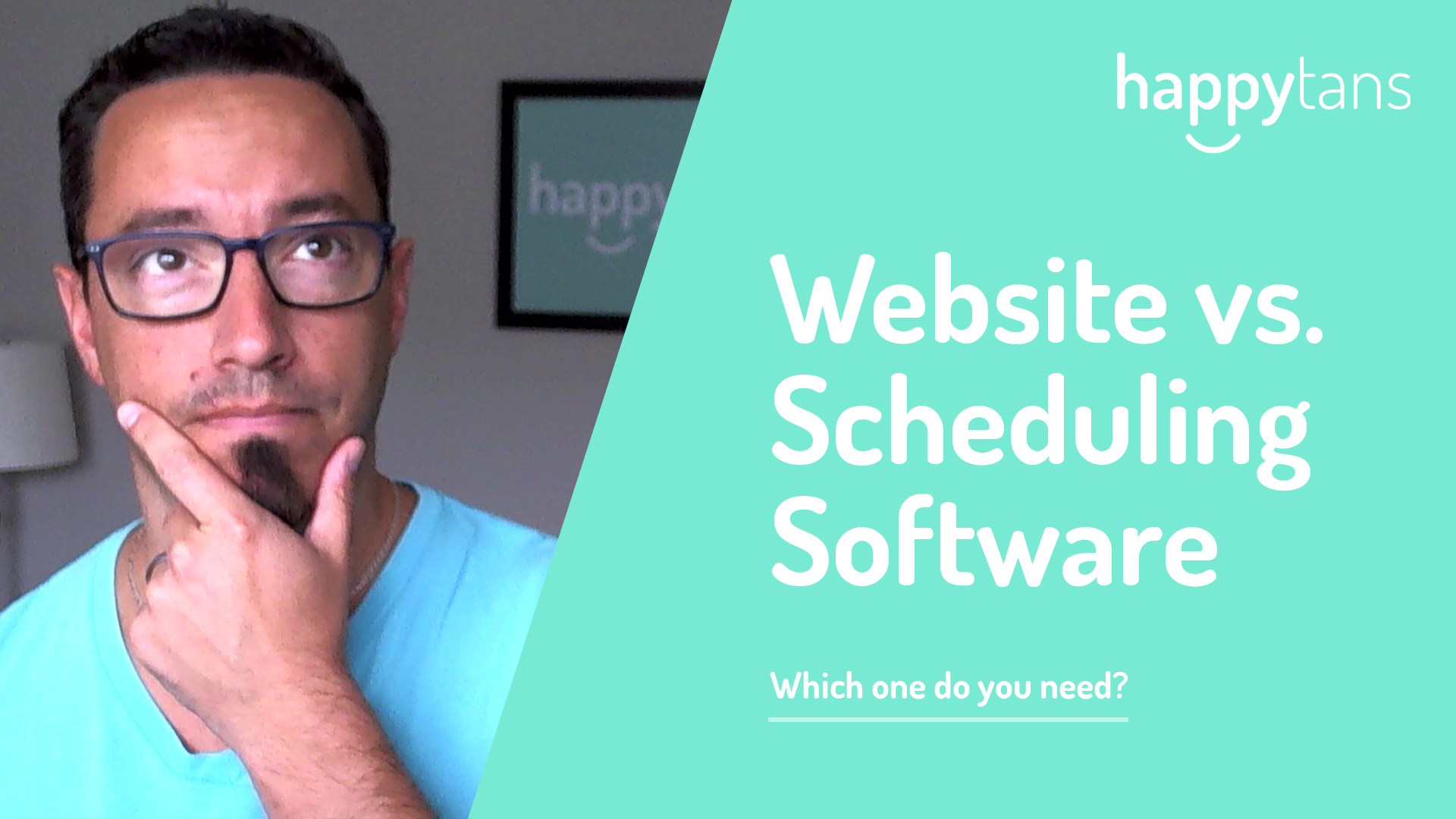 We often are asked about how a website is different from a scheduling system or software.  This is a fair question because they typically both cost money and this investment needs to produce a return on investment or ROI.
It's obvious that the scheduling software can allow you to streamline certain aspects of your business.  The website, however, can be something that is often overlooked and misunderstood.
In fact, a lot of (if not all) of the scheduling systems refer to your booking link as a "website", although it is far from that.
In this article, I am going to break down the major differences between a website and scheduling software.  One, the scheduling software, is more focused on operations, whereas a website is geared towards marketing and customer/client acquisition.


Control
One of the first factors that come to my mind is control.  What I mean by that is the ability to do what you want with your website.  
For scheduling systems, they have limited options over what you can and cannot change.  This is with good reason, but it does not leave you many options on how to be different and/or show your personality.
The process is streamlined and is aimed to help you get someone to schedule an appointment as quickly as possible.  There is limited opportunity to showcase your work, elaborate on the service itself, and even provide the necessary pre and post tan care.
Control the narrative
I always revert back to this saying, "control the narrative", when telling people why I think they need a website in addition to a scheduling system.
Ultimately, the website allows you to tell your story, and share your information, and resources – pre/post tan care, blogs, FAQs, etc, while also showcasing your work and branding.
In most cases, people that are seeking out your services want to gain a better understanding of what you have to offer, how it works, the process of working with you, and much more.  Your website is the place for you to share that information in a way and format that is best for you.
Maybe you want to tell your story with a video, or include pictures of your family, pets, or even friends.  Scheduling systems, or scheduling "websites", do not allow you to do this.
Your website would.
SEO/Leads
"97% of users use search to find a local business"
Without getting too nerdy, I am going to do my best to explain the technical difference between scheduling software and a website, especially as it relates to your domain.
Most scheduling software adds your URL to an existing URL either known as a subdomain or subfolder.  Here's an example:
www.grants.schedulingsoftware.com (subdomain), or
www.schedulingsoftware.com/grants (subfolder)
While this is all good and well, the most opportune situation would be for your website to live at the main URL.  In the examples above, the main URL would be "schedulingsoftware.com".
The reason being is that the main domain (ie. schedulingsoftware.com) is the most powerful part of the website in general.  If you go to Google or any other search engine and type in "spray tan near me" more than likely you will mainly see single domains and not subdomains or subfolders ranking in the top positions.
For me, it's always best to try to no reinvent the wheel and to see what Google is actually doing.  If I were to notice that all of my competition had a website, then I would know that it is probably best for me to have a website too because I want to compete with them. 
As of 2021, 81% of customers research things online before they spend the money or invest in a product or service.  If the client doesn't find you, then they will go elsewhere for their services.
Professionalism
84% of today's consumers think a website makes your website look more credible versus those who opt for other options, such as social media profiles or scheduling software.  
In addition, your website is also a perfect place to showcase your experience, certifications, and any awards that you have won. 
Lastly, a website provides you the option to get a branded email (ie. [email protected]) versus using a free provider such as gmail, yahoo or aol.
At this point, your customers expect you to have a website.  It's 2022 y'all!
Save you time
As a small business owner, we all know that we are asked a lot of the same questions time and time again.  With a properly structured website, you can eliminate a lot of the back and forth by providing that information you repeat daily on your website.
It's simple enough to send a link to a client to let them know how to prepare for or properly take care of their tan.
Not sure where to get started with your website?  We've got a complete step-by-step email series that will show how to create your website, including the pages that are needed to make an effective website.
Updates and Announcements
From time to time we need to relay necessary information to our clients.  Think back to when the pandemic started.  It was important for us to provide a message to our clients to let them know what was going on with our business.
Your website is the perfect place to showcase this information and that is where people will look to in order to find such information.
It's not as complicated or expensive as you think
Not too long ago, creating a website was a huge endeavor.  Technology had not adapted in the way it has today with a ton of amazing tools for creating a website for your business.
For instance, happy tans is a small monthly investment of only $29/month.  For the cost of less than one tan per month, you can have a professional website that is SEO-optimized out of the box to help you be found online.
Sure, there are other and even free resources out there, but time and time again we see our websites outranking the competition.
Get started for only $1 by clicking this link!   
Uptime
On rather rare occasions, either a website hosting provider or scheduling software can experience technical issues and cause their systems to go down.  If you are relying on only one resource, either a website or scheduling software, you would be out of luck if one were to go down.
In this case, it would be nice to be able to point your clients, or potential clients, over to the other resource.